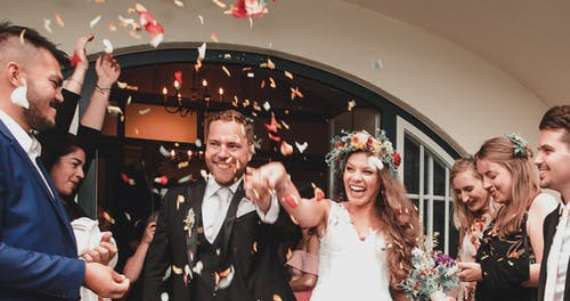 At some point in your relationship, chances are you might end up talking about sharing money. Every couple is different, but here are some tips to make sure it's right for both of you.
A FEW FACTS TO KNOW
Even if you have a strong relationship, there are still some important details to consider before joining finances. Money Smart's guide to realationships and money makes some key points:
If your partner defaults on a joint loan, you may have to pay for the whole amount – even after your relationship ends.

If a utility bill is solely in your name, it's your responsibility to pay it.

You need to think realistically before becoming a guarantor on your partner's loan. If they can't repay it, you may have to.

You're liable for any papers that you sign, so make sure you read through everything before you move forward.
TO SHARE OR NOT TO SHARE?
A shared bank account is a big step in your relationship, so it's important to discuss what type of account will suit you best and seek financial advice if need be.
You might decide that an everyday account with low fees works within your budget and savings plan. Or, you might find a high-interest account works best for you.
MERGING ACCOUNTS
If you decide to close your individual bank accounts, you'll want to get in touch with all the companies you have automatic debits or deposits with, and give yourself enough time to move these over.
Another account to merge might be your health insurance. As always, it's a good idea to seek financial advicebefore making these decisions. Please contact us on |PHONE| if you seek assistance .
A joint credit card can be a great idea if you both have similar financial goals. Before you rush into this, have a think about what you'll actually need it for.
Sharing finances often means making joint decisions about managing your debts. It also means having honest discussions about current loans, as well as your spending and saving habits – good and bad.
If you have assets and investments you want to protect, it may be worth entering a binding financial agreement (BFA), also known as a prenup.
A WEDDING BUDGET THAT WORKS FOR YOU
For many couples in Australia, getting married is one of the most exciting events in their lives. But as every celebration is different, your best approach is to think realistically.
This starts with setting a budget that's built around you. You don't want to drain your savings, go into debt or compromise any other financial goals, such as buying a home.
From the engagement ring to the reception, the costs of a wedding can stack up. But there are many ways to boost your funds too, such as financial contributions from parents and gift donations from friends.
To get a more detailed overview, it's worth reading our article on budgeting for weddings. After considering everything, you might find that a personal loan for your wedding can help you check off your wedding planning list and achieve your dream day.
BUYING, RENTING AND MERGING YOUR HOMES
When it comes to buying a home, a big consideration will be investing in a mortgage. How much you contribute to this will often depend on how much you're earning. Sitting down with a financial adviser is a good way to come up with a plan. Please contact us on |PHONE| if we can be of assitance .
During the process, you might find it's something you're better off doing separately, or that renting is the better option until your finances are in better shape.
If you're already a homeowner, you might consider renovations as a way of starting your life together. With the right budget in place – or a loan to help you out – it could be more cost-effective than buying a new home.
HAVING KIDS TOGETHER
According to recent estimates, the minimum cost of raising a child in Australia starts from $140 a week1. However, it's also been estimated that the average, middle-class Australian family will spend more than $406,000 on each child, from birth through to finishing school1
It's clear that having kids is a major financial consideration. From pre-natal costs and navigating parental leave, to upsizing your house and paying for childcare – there's a lot to consider.
Reproduced with permission of National Australia Bank ('NAB'). This article was original published at https://www.nab.com.au/personal/life-moments/family/get-married/combining-finances
National Australia Bank Limited. ABN 12 004 044 937 AFSL and Australian Credit Licence 230686. Any advice contained in this article has been prepared without taking into account your objectives, financial situation or needs. Before acting on any advice on this website, NAB recommends that you consider whether it is appropriate for your circumstances.
© 2018 National Australia Bank Limited ("NAB"). All rights reserved.
Important:
Any information provided by the author detailed above is separate and external to our business and our Licensee. Neither our business, nor our Licensee take any responsibility for any action or any service provided by the author.
Any links have been provided with permission for information purposes only and will take you to external websites, which are not connected to our company in any way. Note: Our company does not endorse and is not responsible for the accuracy of the contents/information contained within the linked site(s) accessible from this page.
Powered by WPeMatico