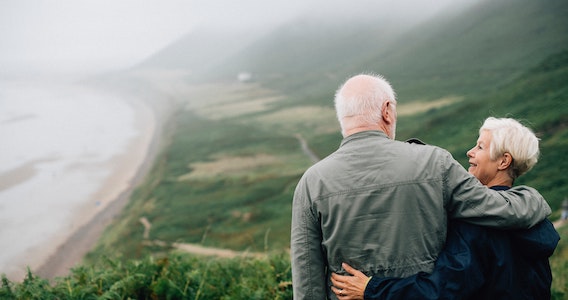 Many Australians will spend decades as retirees, that's time spent working, travelling or spending time with their families. Planning for retirement now will ensure you're able to live the way you want.
PLANNING CAN MAKE YOUR RETIREMENT DREAMS POSSIBLE
So what sort of retirement do you imagine? As with all areas of your life, planning is a great way to achieve the future you dream about.
QUESTIONS TO ASK YOURSELF TO HELP KICK START YOUR RETIREMENT PLANNING
Here are a few questions to get your retirement planning underway. Thinking about these might lead you to more questions, but that's the fun part of the journey.
How much money will you need for your retirement plan?

How long will you likely spend in retirement?

Where will the money come from?

Where will you live when you're retired?
HOW MUCH MONEY WILL YOU NEED TO RETIRE?
How much money you'll need to retire, has a lot to do with the lifestyle you'd like to live. And once you understand what you're likely spend in retirement you can look at the types of income streams you will rely on.
It may be possible to get by on the Age Pension and other government subsidies, but keep in mind the Age Pension (for a single person) is currently set at around 29 % of the Australian average full time wage of AUD$82,4361 (excluding bonuses and overtime).
So how much will you need in annual income in retirement? If you already have a personal or household budget, try updating the information to reflect your predicted spending in retirement. While your work costs will be reduced or even eliminated, you'll spend more in other areas, for example, medical costs, travel and maybe some 'adventuring'.
As a guide most people need around 67% of their pre-retirement income to maintain the standard of living they enjoyed before they stopped working, according to Moneysmart.
Budget Planner
A good place to start is our budget planner. Alternatively, MoneySmart have a range of calculators which can help you plan for your retirement goals.
Keep in mind your plan needs to be a long-term one. It's likely that your spending, and your needs, will be different in the later years of your retirement to what they are at the start. Your plan will need to evolve and be adaptable.
WHERE WILL YOUR MONEY COME FROM?
Age Pension – eligibility and amount
Once you reach qualifying age for age pension – currently 65.5 – you may be eligible for a fortnightly Age Pension (subject to asset and income tests). As of 20 September 2017, this provides a maximum income of $894.40 a fortnight for singles, and $1,348.40 per fortnight for couples (combined) including supplements. You can find out more from the Department of Human Services.
Superannuation – when you can access it and how much to spend
You could start accessing some of your super as soon as you hit your preservation age. Obviously, the less you draw down now, the more funds you'll have later on.
You'll have to withdraw a minimum amount each year from your super pension account, depending on your age. For example, if you're between preservation age and age 64, your annual payment as a percentage of your account balance must be 4%. Unless you have met a full condition of release, you may also be limited as to how much you can withdraw from your pension each year, and whether or not you can access lump sums.
Investments – do your research on what's possible
Ideally, soon-to-retire Australians have a diverse range of investments besides their super scheme and the family home. You can never do enough research. Have a look at ASIC's Moneysmart website: their Financial Decisions at Retirement (PDF, 1.41MB) provides a summary of retirement, social security benefits, and super amongst other things. And NAB has a range of resources you might find helpful.
Down-sizing your home
While many Australians have wealth tied up in their family home and some down-size to buy a smaller home to release equity in their home, what you do depends on your own personal circumstances. There are many things to consider before you can do this, including tax implications, Centrelink entitlements and eligibility. It's important to discuss this with a financial adviser to make sure this is the right strategy for you, before making a decision.
WHERE WILL YOU LIVE IN RETIREMENT?
Going further into retirement most likely means your lifestyle will change. But it also offers an opportunity to shift lifestyles to one that better suits that stage of your life. Here are a few common housing choices retirees make.
Home sharing
It's a concept that is becoming increasingly popular, particularly for those who may have lost a spouse. Living with a flatmate means sharing the costs of living such as utilities and rent. It can also be a form of income if you own your home.
Over 55's or retirement living
This can be a great way to retain your independence, while also becoming part of a community style of living.
Aged care
When things really slow down, and you could use a few extra sets of hands to help you with the day to day tasks, aged care can help.
Please contact us on |PHONE| if you seek further discussion on this topic .
 Important 
Reproduced with permission of National Australia Bank ('NAB'). This article was original published at https://www.nab.com.au/personal/life-moments/work/plan-retirement/planning
National Australia Bank Limited. ABN 12 004 044 937 AFSL and Australian Credit Licence 230686. Any advice contained in this article has been prepared without taking into account your objectives, financial situation or needs. Before acting on any advice on this website, NAB recommends that you consider whether it is appropriate for your circumstances.
© 2018 National Australia Bank Limited ("NAB"). All rights reserved. 
Important:
Any information provided by the author detailed above is separate and external to our business and our Licensee. Neither our business, nor our Licensee take any responsibility for any action or any service provided by the author.
Any links have been provided with permission for information purposes only and will take you to external websites, which are not connected to our company in any way. Note: Our company does not endorse and is not responsible for the accuracy of the contents/information contained within the linked site(s) accessible from this page. "
Powered by WPeMatico