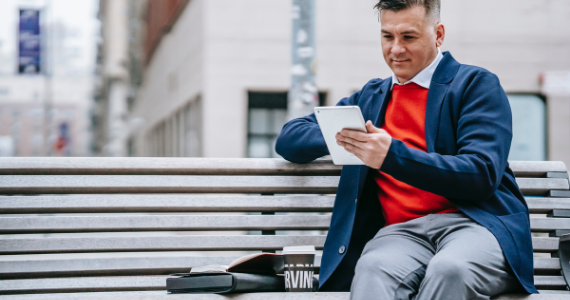 Even though redundancies are often part of business, being told your role has become redundant can still leave you feeling blindsided. If it happens towards the end of your career it can really throw plans into disarray if you'd hoped and expected to keep working longer. The key is not to panic.
Some people discover that a redundancy at this stage of life can in fact open doors to new financial and lifestyle possibilities.
Threat or opportunity?
While every situation is different, an unexpected redundancy could be turned to your favour. It might not be the timing you wanted but, if you consider what you could end up with, it could in fact be a windfall.
You might even be able to use it to achieve the kind of goals and objectives you've been talking about and dreaming about for years.
Understand the payment
A redundancy payout can be complex, with a range of tax implications – especially if it covers a long period of employment or is a large sum. One of the first things to do is make sure you completely understand the payment.
Knowing your rights and checking you're receiving what you're entitled to, is important.
As soon as possible, get a copy of the proposed payout so you can assess the financial implications and options available to you. An accountant or financial adviser can help you with this. If your employer is flexible, you might even be able to use it to your financial benefit. For example, you may be able to defer receiving the payment to a new financial year by taking annual leave or long service leave in the interim. This could help you reduce your tax liability. Delaying your termination date may also have the added benefit of boosting your super as you would still be receiving super contributions for this period.
Review your options
Once you're clear on the offer, but before making any financial decisions, ensure you take the time to assess your position and get some perspective on the situation.
Meeting your immediate needs
Depending on how long you've been with your employer, a redundancy payment could provide you with the equivalent of six months to a year of salary as a lump sum amount. Assuming you wish to continue working, if you were able to get another job within that time frame, you could be better off.
However, as it's difficult to know when you might get another job, you may want to think about placing your redundancy payment in a bank account (or a home loan offset account) that you can readily access. Another, key consideration during this time is to review your spending to make sure you don't deplete your redundancy payment too soon. This is particularly relevant for smaller redundancy payments which may apply if you were only with that employer for a short time. Our Budget calculator can help you to review your spending patterns and identify areas for adjustment. Understanding the size of your redundancy payment, and how long it's likely to last based on your current spending, can provide a useful guide on how quickly you'll need to find alternative employment.
Dealing with the remainder
If you are fortunate enough to find a new job quickly, and/or your redundancy payment is more than adequate to cover your living expenses for an extended period of time, you'll need to decide what to do with the remaining balance. Some of the options you may consider include:
if you still have a home loan, using this amount to pay down or discharge the loan,

if your super is still in accumulation mode, contributing all or a portion of the payment as an after-tax super contribution to boost your retirement savings (being mindful of contribution caps), or

investing the payment outside super if you're saving for a more immediate goal.
Deciding how to spend or invest your redundancy payment can make a significant difference towards your financial future. As the best approach will depend on your specific circumstances and financial objectives, we recommend you seek professional advice from a financial adviser.  
Moving towards retirement
For some people, a redundancy later in life can create an ideal position to begin a move towards retirement.
If you are entitled to a large payment, it might allow you the financial freedom to start working less and ease your way into retirement.
For those with access to their superannuation, taking some part of that as a transition to retirement pension could also be an option. You might, for example, be able to maintain your current standard of living by drawing a modest amount from the pension, while also working part time to make up the shortfall.
Embracing the change
Finally, once you've had a chance to review your position, a redundancy can lead to new options and new ways of thinking. Some people may choose to continue working but embrace the freelance life; some may wish to focus on enjoying their free time more; while others may follow a passion they've always held.
By taking your time to understand and evaluate your options, you could well be able to turn an unexpected redundancy into an unexpected opportunity.
Contact us on Phone 02 4342 1888 for more information. 
Source: MLC Insights January 2021
National Australia Bank Limited. ABN 12 004 044 937 AFSL and Australian Credit Licence 230686. MLC Limited uses the MLC brand under licence. MLC Limited is a part of the Nippon Life Insurance Group and not part of the NAB Group of Companies. The information contained in this article is intended to be of a general nature only. Any advice contained in this article has been prepared without taking into account your objectives, financial situation or needs. Before acting on any advice on this website, NAB recommends that you consider whether it is appropriate for your circumstances.
Important: Any information provided by the author detailed above is separate and external to our business and our Licensee. Neither our business nor our Licensee takes any responsibility for any action or any service provided by the author. Any links have been provided with permission for information purposes only and will take you to external websites, which are not connected to our company in any way. Note: Our company does not endorse and is not responsible for the accuracy of the contents/information contained within the linked site(s) accessible from this page.
The post Navigating redundancy: make it work for you appeared first on MLC Contemporary.
Powered by WPeMatico