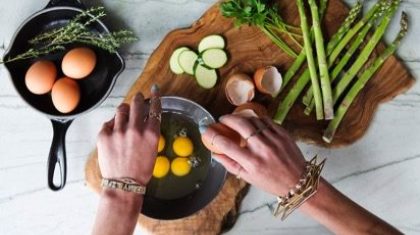 Eating out or in, which is better?
How much is eating out really costing you? It might surprise you to learn that most of us spend about $100 every week on lunches. 
Did you know that an average household spends approximately $100 per week eating out?
That means 50 million meals out in Australia each week, or 2.5 billion in a year. Even just a $15 lunch with the co-workers a few times a week can really start to add up.
Thankfully, you can save your wallet and develop healthier eating habits – saving you time to spend on the fun things in life.
So which option is cheapest? Eating out, homemade lunches, or pre-packaged meals like YouFoodz, Thrive, and Lite'n'Easy?
Homemade lunches
Canstar's febfast research showed if you swap your five-day a week $15 lunches, which adds up to $300 over four weeks, for a $5 lunch ($100 over four weeks), then in one month you could save around $200.
It may seem daunting, but planning a weekly menu and making your own lunches to bring to work can be easier than you think.
We get it, grocery shopping and cooking is an effort, but if you find a couple of recipes you like (Pinterest food crush inspo, anyone?) you can make a list of ingredients and buy the same ones regularly.
Pre-packed meals
The 21st century brought the beginning of meal delivery services, offering convenient and healthy meal options for busy workers – and they seem to be effective.
A survey conducted by Canstar Blue found that 39 per cent of respondents who use meal delivery services choose them for convenience.
Almost one third of survey respondents said their main motivation for using healthy meal delivery services is weight loss.
But can they save your wallet as well as your waistline?
Eating out or a home loan?
Time to put our money where your mouth is. Let's say that at a minimum, you were able to save $100 per month by changing your eating habits.
If you have a home loan and put the extra savings towards your monthly repayment, you may be able to save yourself some serious money!
For example, if you have a $300,000 home loan with an average standard variable comparison rate of 4.5 per cent, you could find that contributing the extra $200 to your monthly mortgage repayment you could save almost $20,000 in interest by the time your home loan is repaid, and you may potentially repay your home loan more than two years earlier:
 

Without Extra Savings

Put Savings Towards Home Loan

Monthly repayment

$1,659/month

$1,759 per month

Interest paid over 25 years

$197,698

$175,658

Interest saved

$0

$22,040

Time saved

0 years (full 25-year loan term)

2 years, 5 months

Source: www.canstar.com.au. Based on $300,000 loan amount, 25-year loan term, and average standard variable comparison rate of 4.45% p.a..
Depending on how you manage it, both homemade lunches and pre-packaged lunches could save you money.
If you're having trouble saving money because you're constantly eating out, it's worth experimenting to find the right meal method for you – you mind find that a combination of pre-packaged and home-made is a good recipe!
Financy is a women's money matters publication and is home to the Financy Women's Index. 
Source : Financy February 2018 
This article by Belinda Williamson is reproduced with the permission of Financy. This article was originally published at www.financy.com.au.
Financy® collaborates on all things women and money. It's your daily source of money tips, tools and inspiration for achieving financial fitness + reaching your life goals.

Important:
This provides general information and hasn't taken your circumstances into account. It's important to consider your particular circumstances before deciding what's right for you. Any information provided by the author detailed above is separate and external to our business and our Licensee. Neither our business, nor our Licensee take any responsibility for any action or any service provided by the author.
Any links have been provided with permission for information purposes only and will take you to external websites, which are not connected to our company in any way. Note: Our company does not endorse and is not responsible for the accuracy of the contents/information contained within the linked site(s) accessible from this page. 
Powered by WPeMatico