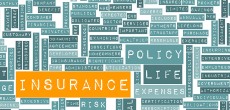 When you have a new mortgage and dependent children, the need for personal insurance is clear. But as the kids become independent and your mortgage shrinks, you might feel that you no longer need the same level of protection.
Before you cancel all your policies, it's important to understand why you still need a financial safety net. If you don't already have the right cover in place – it's not too late to get the protection you need.
Here are three good reasons to make sure you have the right cover.
1. Protecting your future
According to a recent report, 77 per cent of Australians aged between 45 and 64 don't have adequate disability insurance[1]. But as we get older, the risk of developing a chronic illness or having a serious injury[2] increases.[3]
Your future plans can be jeopardised if you need to take a significant amount of time off work – or have to stop work altogether.  As well as losing the money you receive in income, you may also end up with high medical and rehabilitation bills.
Income protection insurance can cover you if you're off work, with regular payments to help cover your costs for up to the entire benefit period you choose for this insurance.  Total and Permanent Disablement cover can pay a lump sum if your injury or illness means you can never work again.
Even if you've retired, the right cover can make sure you don't have to eat up all your super on medical costs.
2. Protecting your partner
You haven't worked hard all these years for your loved ones to end up in financial strife if something happened to you. Sadly, that's exactly what could happen with inadequate life cover.
With the average age of Australians buying homes on the rise[4] and the fact that Australians are having children later, more people need a higher level of insurance for longer. If you're still in a situation where you're paying off your mortgage, could your partner cover the payments on their own? And then there's school fees and other expenses.
Without you and your income, your loved ones may find themselves in a very different financial situation than you'd hoped to provide for them.
3. Protecting your legacy
If you were relying on your future income to help your children get ahead in life, if you pass away or become unable to work earlier than expected, they could face an uphill battle on their own. Worse, they could be left to pay debts or bills you leave behind, including the cost of your funeral.
Having the right insurance can mean that, even if the worst happens, your family won't have to be financially worse off.
Get help to review your cover
As you get older, your insurance needs to change, so it makes sense to review your cover every few years. As your debts reduce and your dependents leave home, you may be able to reduce your cover and save on premiums. Of course, everyone's situation is different, so make sure you seek professional advice.
Please contact us on |PHONE| if you would like to discuss.
---
Powered by WPeMatico