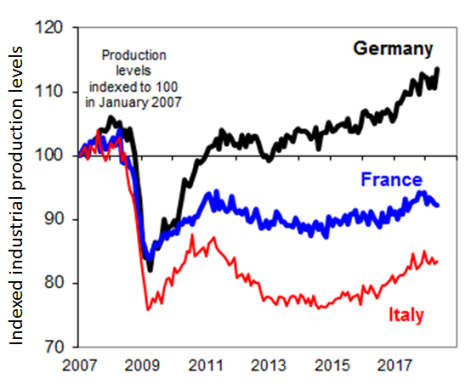 31 July 2018
Bob Cunneen, Senior Economist and Portfolio Specialist
                   European industrial production
                Sources: Eurostat and Thomson Reuters Datastream.
European industrial production has improved over recent years. For the year to May, production has increased by 2.4%. However this broad measure of European economic activity camouflages the wide divergence in performances across the continent. This sharp activity divergence over the past decade shows the fault lines in Europe's bold experiment of monetary integration.
Germany has been in the fast lane on the Autobahn highway system since the 'Global Financial Crisis' (2007-2009) and 'Europe's Sovereign Debt Crisis' (2011-2012). Germany's industrial production is a healthy 13% above 2007 levels (black line). By contrast, France (blue line) has been struggling in the slow lane with production still 7% below 2007 level.
Italy seems to be in the 'break down lane' with its industrial production levels still 16% below 2007 levels (red line). The sweet life for Italy ('La Dolce Vita') has turned sour given low business investment, high government regulations and a weak banking system that has constrained economic activity. This economic weakness also accounts for the emergence of the two populist political parties in the Five Star Movement and Lega parties who have now formed a coalition government in Italy that is causing consternation across Europe.
 Source : Nab nabassestmanagement 31 July 
Important information
This communication is provided by MLC Investments Limited (ABN 30 002 641 661, AFSL 230705) ("MLC"), a member of the National Australia Bank Limited (ABN 12 004 044 937, AFSL 230686) group of companies ("NAB Group"), 105–153 Miller Street, North Sydney 2060. An investment with MLC does not represent a deposit or liability of, and is not guaranteed by, the NAB Group. The information in this communication may constitute general advice. It has been prepared without taking account of individual objectives, financial situation or needs and because of that you should, before acting on the advice, consider the appropriateness of the advice having regard to your personal objectives, financial situation and needs. MLC believes that the information contained in this communication is correct and that any estimates, opinions, conclusions or recommendations are reasonably held or made as at the time of compilation. However, no warranty is made as to the accuracy or reliability of this information (which may change without notice). MLC relies on third parties to provide certain information and is not responsible for its accuracy, nor is MLC liable for any loss arising from a person relying on information provided by third parties. Past performance is not a reliable indicator of future performance. This information is directed to and prepared for Australian residents only. MLC may use the services of NAB Group companies where it makes good business sense to do so and will benefit customers. Amounts paid for these services are always negotiated on an arm's length basis.
Powered by WPeMatico