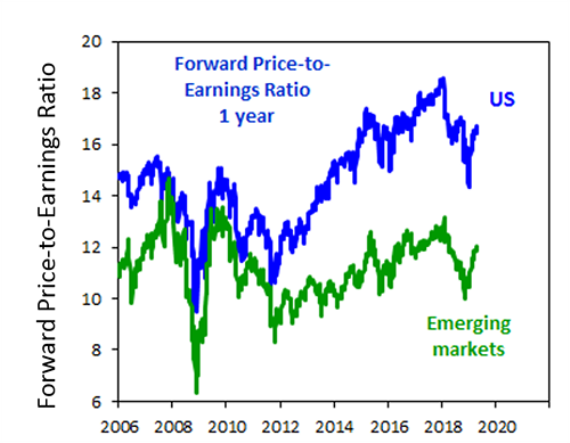 18 April 2019
Bob Cunneen, Senior Economist and Portfolio Specialist
Global Shares Forward Price-to-Earnings Ratio
                                             Source: IBES and Datastream.
Global share prices have surged back in 2019. The painful final months of 2018 are only a distant memory for investors. US share prices as measured by the S&P 500 Index are up by nearly 16%, German shares (DAX) are up by 14% while Chinese shares (MSCI China Index) are up by 22%. 
A rising tide of positive news has provided hope this year. The US central bank has declared that interest rates are on hold. President Trump and President Jinping have suggested progress in the US – China trade negotiations. Even the Chinese economy shows signs of stable economic growth after concerns that credit conditions were tight.
Yet a very simple measure of share valuations suggests that investors may need to be more cautious. The Forward Price-to-Earnings (Forward P/E) measures the ratio of current share prices to expected corporate earnings in a year's time. Ideally an investor wants to buy at a low Forward P/E while selling out at a high P/E. Currently most markets are above their past decade's average for the Forward P/E. The US share market (blue line) is particularly expensive  with a Forward P/E of 16.7 versus the decade average of 14.7. Even emerging markets (green line) – which includes developing nations such as China – has a Forward P/E of 12 that is above the decade average of 11.1. So investors need to be careful that the current positive thinking on global shares does not become wishful when the tide turns.
Source : Nab assestmanagement April 2019 
Important information
This communication is provided by MLC Investments Limited (ABN 30 002 641 661, AFSL 230705) ("MLC"), a member of the National Australia Bank Limited (ABN 12 004 044 937, AFSL 230686) group of companies ("NAB Group"), 105–153 Miller Street, North Sydney 2060. An investment with MLC does not represent a deposit or liability of, and is not guaranteed by, the NAB Group. The information in this communication may constitute general advice. It has been prepared without taking account of individual objectives, financial situation or needs and because of that you should, before acting on the advice, consider the appropriateness of the advice having regard to your personal objectives, financial situation and needs. MLC believes that the information contained in this communication is correct and that any estimates, opinions, conclusions or recommendations are reasonably held or made as at the time of compilation. However, no warranty is made as to the accuracy or reliability of this information (which may change without notice). MLC relies on third parties to provide certain information and is not responsible for its accuracy, nor is MLC liable for any loss arising from a person relying on information provided by third parties. Past performance is not a reliable indicator of future performance. This information is directed to and prepared for Australian residents only. MLC may use the services of NAB Group companies where it makes good business sense to do so and will benefit customers. Amounts paid for these services are always negotiated on an arm's length basis.
Powered by WPeMatico