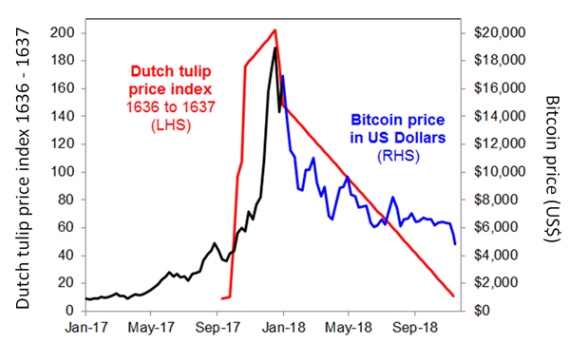 21 November 2018
Bob Cunneen, Senior Economist and Portfolio Specialist
Bitcoin vs Tulip prices
Sources:  Reuters, Datastream. McClure.J.E and Thomas D.E (2017), Financial History Review
Chart update: In January 2018 we plotted Bitcoin's price rise (black line) and posed the question "Is Bitcoin the new tulip mania?" Over the past year, Bitcoin has suffered large price falls. From a peak of US$19,700 in December 2017, Bitcoin is now below US$5,000 (blue line).
Bitcoin was essentially the new 'mania' for this millennium. Bitcoin's appeal reflected the perception of 'novelty', 'notoriety' and 'scarcity'. Novelty came from Bitcoin being a digital currency stored on a single computerised global ledger known as a block chain. The notoriety comes from the ability to hide transactions and the chequered history of stolen Bitcoins. The scarcity element for Bitcoin comes from the absolute limit of only 21 million registered units.
History provides an ominous precedent that novelty can become tired and notoriety can be dangerous to your wealth. The Tulip Mania in Holland (1636 -1637) saw tulip prices rise by similar twenty times in a very short time period (red line) only to subsequently collapse. The Dutch speculators back then, like the modern Bitcoin investor, mistakenly perceived their asset as being rare and valuable.
So Bitcoin has been a 'tiptoe through the tulips' where the bloom of potential gain has wilted with financial pain.
 Source : Nab assetmanagement November 2018
Important information
This communication is provided by MLC Investments Limited (ABN 30 002 641 661, AFSL 230705) ("MLC"), a member of the National Australia Bank Limited (ABN 12 004 044 937, AFSL 230686) group of companies ("NAB Group"), 105–153 Miller Street, North Sydney 2060. An investment with MLC does not represent a deposit or liability of, and is not guaranteed by, the NAB Group. The information in this communication may constitute general advice. It has been prepared without taking account of individual objectives, financial situation or needs and because of that you should, before acting on the advice, consider the appropriateness of the advice having regard to your personal objectives, financial situation and needs. MLC believes that the information contained in this communication is correct and that any estimates, opinions, conclusions or recommendations are reasonably held or made as at the time of compilation. However, no warranty is made as to the accuracy or reliability of this information (which may change without notice). MLC relies on third parties to provide certain information and is not responsible for its accuracy, nor is MLC liable for any loss arising from a person relying on information provided by third parties. Past performance is not a reliable indicator of future performance. This information is directed to and prepared for Australian residents only. MLC may use the services of NAB Group companies where it makes good business sense to do so and will benefit customers. Amounts paid for these services are always negotiated on an arm's length basis. 
Powered by WPeMatico