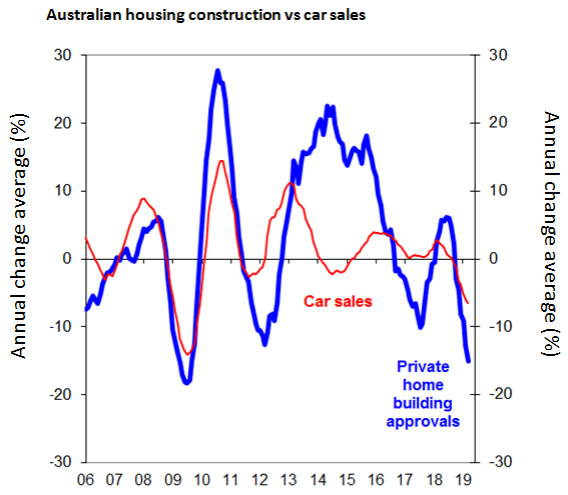 Bob Cunneen, Senior Economist and Portfolio Specialist
Source: Australian Bureau of Statistics (ABS).
The Reserve Bank of Australia (RBA) has cut interest rates again by 0.25%. This now sees the official cash interest rate fall to only 1%. This seems extraordinarily low given that the Australian share market has generated a robust 20% return in the first half of 2019 and jobs growth is solid.
However the key concern for Australia is the consumer's resilience to a trifecta of troubles. Falling house prices, high household debt and slow income growth have proven to be a troubling trio for the Australian consumer. This trifecta of troubles has seen the consumer struggle to maintain their spending appetite. Notably the very sharp falls in both new housing construction approvals (blue line) and car sales (red line) over the past year shows that Australian consumers have become very cautious.
Yet there is no guarantee that lower interest rates will provide the turning point for consumer spending and the housing market. Consumers could remain cautious, preferring to meet their key essentials of existing debt commitments, electricity and health care costs rather than increase their retail spending. However a combination of lower interest rates and the Federal Budget's income tax cuts for low to middle income earners should help support the Australian consumer to eventually open their wallets and purses. 
Source : Nab assetmanagement July 2019  
Important information
This communication is provided by MLC Investments Limited (ABN 30 002 641 661, AFSL 230705) ("MLC"), a member of the National Australia Bank Limited (ABN 12 004 044 937, AFSL 230686) group of companies ("NAB Group"), 105–153 Miller Street, North Sydney 2060. An investment with MLC does not represent a deposit or liability of, and is not guaranteed by, the NAB Group. The information in this communication may constitute general advice. It has been prepared without taking account of individual objectives, financial situation or needs and because of that you should, before acting on the advice, consider the appropriateness of the advice having regard to your personal objectives, financial situation and needs. MLC believes that the information contained in this communication is correct and that any estimates, opinions, conclusions or recommendations are reasonably held or made as at the time of compilation. However, no warranty is made as to the accuracy or reliability of this information (which may change without notice). MLC relies on third parties to provide certain information and is not responsible for its accuracy, nor is MLC liable for any loss arising from a person relying on information provided by third parties. Past performance is not a reliable indicator of future performance. This information is directed to and prepared for Australian residents only. MLC may use the services of NAB Group companies where it makes good business sense to do so and will benefit customers. Amounts paid for these services are always negotiated on an arm's length basis.
Powered by WPeMatico