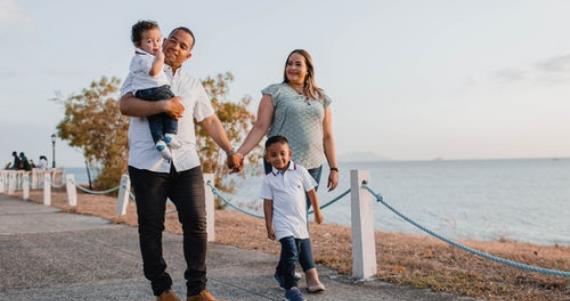 The first two years of parenting are notoriously tough on the pocket. Having a budget is a great way to set your family up for the first few years of your child's life – and save for the future too. Here are some tips that'll help you do both.
Track your spending and set up a budget 
It can be easy to fritter money away, especially when you're making lots of small purchases. So it's important to remember that they all add up.
It's a good idea for you and your partner to honestly track what you spend each week. So you can identify any ways to pull back and save some money. You'll probably find things you can do without, and that extra cash can go straight into your savings!
Once you know where your money is going you can set up a detailed budget. You don't need to be a whiz with spreadsheets, there are plenty of tools that can help you out.
Budgets are different for every family and it's important that you're realistic about your situation. Please contact us on |PHONE| we can help figure out a plan for your family .
Be prepared to make some changes 
For most parents adjusting to your new life can be difficult. Especially financially. Whether you're taking parental leave, cutting back to part time or choosing to be a stay at home parent, it's important to consider how your new situation will change things for your family financially.
This may mean you need to make changes to your current lifestyle, whether that's not eating out every night or putting a pin in spontaneous holidays.
Keep your super healthy 
Budgeting for your kids can make a big difference in your day-to-day life, but it's also important to think long term and start planning for retirement. Even though it may seem a long way away.
If you or your partner were to stop working or were to reduce your hours, your super could be effected. Spousal contributions are a great way to continue growing your super if your no longer working full time.
Important Information
The information contained in this article is intended to be of a general nature only. It has been prepared without taking into account any person's objectives, financial situation or needs. Before acting on this information, NAB recommends that you consider whether it is appropriate for your circumstances. NAB recommends that you seek independent legal, financial, and taxation advice before acting on any information in this article.
 Any information provided by the author detailed above is separate and external to our business and our Licensee. Neither our business, nor our Licensee take any responsibility for any action or any service provided by the author.
Any links have been provided with permission for information purposes only and will take you to external websites, which are not connected to our company in any way. Note: Our company does not endorse and is not responsible for the accuracy of the contents/information contained within the linked site(s) accessible from this page.
Powered by WPeMatico