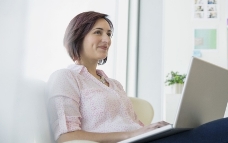 Men are the best investors. Or so Hollywood tells us. "Greed is good," Michael Douglas' Gordon Gekko famously announced in Wall Street, immortalising the notion that brash, testosterone-fuelled risk taking is the key to investment success. The problem is – it isn't true.
Women make wiser long term investment decisions and outperform men overall. Why? Blame male overconfidence.
The confidence problem
In the 1990s, two finance professors from California, Brad Barber and Terry Odean, studied the investment results of men and women at a large discount brokerage. They found men trade 45% more than women, and that this increased frequency reduced men's net returns by 2.65% per year as opposed to 1.72% for women.1
The difference in performance was even more pronounced for singles. Barber and Odean found that single men trade 67% more than single women, reducing their returns by 1.44% per year.1
nabtrade women trade smarter
Closer to home, recent research by NAB of share trading activity on its nabtrade platform found a significant gap in trading volume between the genders. Men on the platform trade 63% more than women, which equates to over 450,000 more trades per year.2
Gemma Dale, Head of SMSF Solutions at nabtrade discusses the results, "While we can't know for sure who is making the trades on an individual account, the trend pattern certainly aligns with Barber and Odean's research. It's great news for women, especially those who may be considering joining the market. The instincts and skills many women have honed by managing their personal finances or a household budget are transferable to investing."
Why women succeed
Louann Lofton, author of the book 'Warren Buffet Invests Like a Girl: And Why You Should Too', drew on research in behavioural sciences to break female investing behaviour into 8 core principles.
She explains female investors tend to:
trade less

display more self-control

limit risk

take a more realistic view

research more

resist peer pressure

learn from their mistakes, and

opt for safer investment opportunities.
In short, they behave like successful investors.
Lofton writes, "What's interesting about that list is that pretty much sums up the investment philosophy Warren Buffet has followed all his investment career."3
On the nabtrade platform, women invest more in companies they trust, holding 60% of their assets in top 10 companies as opposed to 53% for men. Male traders were also more likely to invest in stocks outside the top 200.2
Cutting the losses
Another key ingredient of female investors' success is their ability to keep their egos in check.
Odean explains, "[Men are] sure the stock will come roaring back – even as it sinks. Men with our macho-ness don't want to admit we're wrong. So we tend to hold on to loser stocks. Women are more loss averse than men, more emotionally unattached and are far quicker to unload losers."
How you can succeed too
The key thread in all the data is the importance of self-control. Beginner, intermediate and advanced investors of both genders can gain from focusing on the long term and reigning in risk.    
Dale agrees, "Essentially, successful trading means making the right decision in the moment. Often the right decision is to forgo that potentially profitable trade in favour of the safer option. That takes a good deal of self-control; something every investor should strive to build."
Important information
1 Barber, B.M., and Odean, "Boys will be boys: gender, overconfidence and common stock investment", The Quarterly Journal of Economics, Feb 2001
2 nabtrade, Domestic Assets Analysis, Feb 2016
3 Lofton, Louann, Warren Buffett Invests Like a Girl: And Why You Should Too, Jun 2011
Powered by WPeMatico