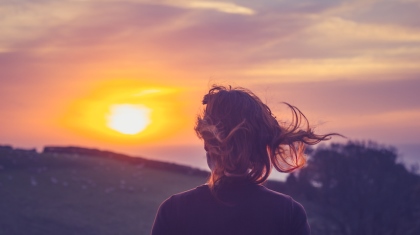 My alarm is set to the song "Happy" by Pharrell Williams. It's impossible to not smile when this song plays. This, combined with the other habits below, set the tone for a productive, happy and healthy day.
1. Drink A Glass Of Water As Soon As You Wake Up
This rehydrates your body, revs up your digestive system, and gets things flowing. You may notice positive changes like clearer skin and better digestion. Bonus points if you add a squeeze of fresh lemon juice or a teaspoon of apple cider vinegar.
2. Do Not Check Your Email Or Phone For At Least An Hour
Do you sleep with your cell phone next to you and grab for it first thing when you wake? This is not a good habit. If you choose to resist the temptation to check your email and Facebook feed until at least an hour after waking up, you'll find that your mind is more clear, focused and happy.
3. Think Of One Thing For Which You Have Gratitude
This sets the stage for positivity throughout the day. If you come up with three or five things, even better.
4. Step Outside And Take A Deep Breath
Fill your lungs with fresh air. Even if it's cold outside. This only takes 10 seconds! It reminds you that you are alive and breathing.
5. Move Your Body
You don't necessarily have to do an intense workout before breakfast, but moving your body even a little is a great way to get the blood flowing and shake the body into wake-up mode. Simply doing a few stretches is a great option. Or turn on your favorite song and dance like no one is watching.
6. Take Time To Eat A Healthy Breakfast
Rather than reaching for a box of cereal, focus on getting real foods in your body. Eggs, soaked oats, and smoothies are all great options. (And they really don't take that much time to prepare.) Try it out.
7. Say Your Affirmations
Look into the mirror and say something positive to yourself. Some ideas:
I radiate beauty, confidence and grace.

Every cell in my body is healthy and vibrant.

I feel great when I take care of myself.
Reproduced with the permission of the Food Matters team. This article was originally published at www.foodmatters.com/article/7-things-healthy-people-do-every-morning
Important:
This provides general information and hasn't taken your circumstances into account.  It's important to consider your particular circumstances before deciding what's right for you. Although the information is from sources considered reliable, we do not guarantee that it is accurate or complete. You should not rely upon it and should seek qualified advice before making any investment decision. Except where liability under any statute cannot be excluded, we do not accept any liability (whether under contract, tort or otherwise) for any resulting loss or damage of the reader or any other person. 
Any information provided by the author detailed above is separate and external to our business and our Licensee. Neither our business, nor our Licensee take any responsibility for any action or any service provided by the author.
Any links have been provided with permission for information purposes only and will take you to external websites, which are not connected to our company in any way. Note: Our company does not endorse and is not responsible for the accuracy of the contents/information contained within the linked site(s) accessible from this page.
Powered by WPeMatico