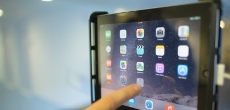 From banking and shopping, socialising and working, technology is part of our everyday lives. So, if you're still struggling to keep up it's time to master the computer in your pocket — – and start enjoying all the benefits it can offer.
Here are five must-know tips to help even the most technophobic take control:
1. Outsmart your smart-device
Just because smartphones and tablets are incredibly convenient doesn't mean you want Google to know everywhere you go. If you prefer a bit more privacy it's easy to turn off your location and keep your whereabouts, mostly, to yourself.
Here's how:
iPhone/iPad: go to Settings > Privacy. Tap location services to see which apps can see your location, manage these settings, or turn location tracking off altogether.

Android: go to Settings > Location and Security, then uncheck Use Wireless Networks.
2. Want an app with that?
Apps can turn your smartphone into a virtual Swiss army knife (minus the sharp instruments).
There are apps that can help you with almost any need in life: to navigate, track your fitness or food, see in the dark with a torch, take a yoga class, measure things, split your restaurant bill, manage your budget, do your banking, order your coffee and work out tips – even tune your musical instrument. Best of all, many are free.
You can download apps instantly to your Android phone or tablet at Google Play, or at the iTunes store for your iPad or iPhone.
3. Make your battery last longer
Are you forever searching for a power source for your device? There are a few things you can do to get more out of your battery life.
Top tips include:
turn down the brightness of the screen

disable WiFi on your phone when you don't need it

make sure your battery doesn't run all the way down – try to charge it when it's still above 40 per cent to get a bit more life from it
If you still find you're running out of juice, you might want to invest in a portable charger, so you can top up your phone on the go.
4. Don't let Google send you gaga
While Google's instant answers have changed the way we live, there's a mine of misinformation out there too. This can be particularly tricky when you're helping the kids with school assignments or undertaking study of your own.
Always check where the information has come from, and only trust reputable sources.
For academic information you can trust, type scholar.google.com into your browser and then continue your search. If you're writing up references for academic work, Bibme.org is a great resource that can help you cite academic work correctly.
5. Make sure you back up
Between them, your laptop, tablet and smartphone can contain much of the critical information you need to live your life: from photos and video, to contact numbers, birthdays and next weekend's plans.
Therefore, it's really important that you back up your devices regularly using an external hard drive or Cloud-based online backup service, like Dropbox.
Powered by WPeMatico